VII MAFS Conference, 1st IAOFO Meeting, 1st GAFS Meeting, WIC 2018
In Tbilisi, Georgia May 18-20, 2018, "Hotel Gino Wellness" (Mtsketa)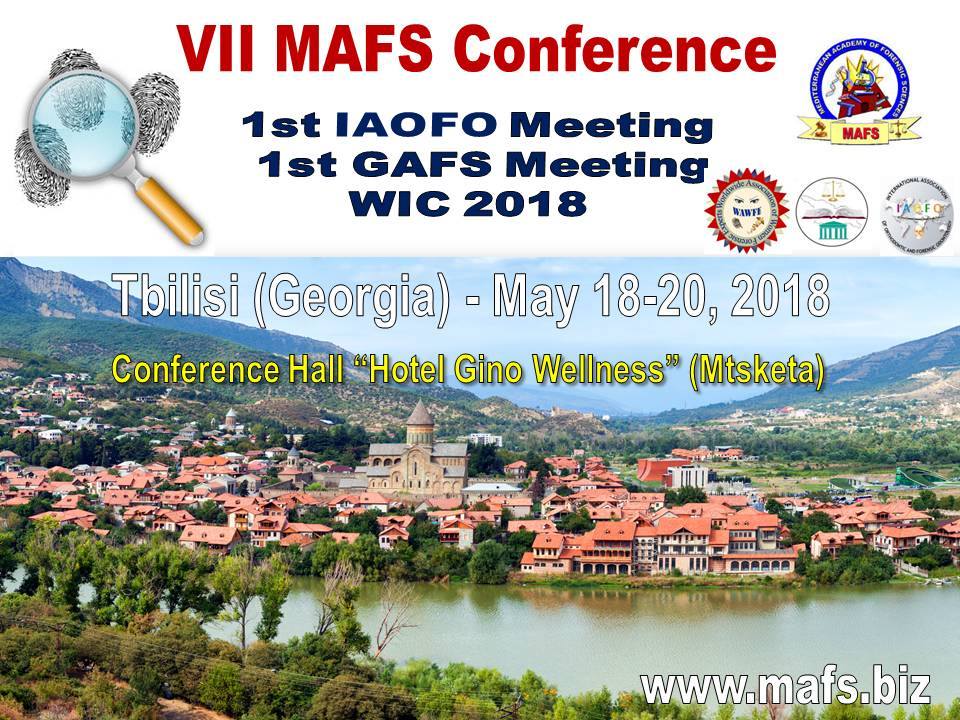 General Informations
Main Topics
        Forensic Anthropology
        Forensic Ballistics
        Forensic Biology & Genetics
        Forensic Biometry
        Forensic Chemistry and Toxicology
        Forensic and Legal Medicine
        Forensic Odontology
        Digital Forensics
        Questioned Documents
        Legal Aspects & Ethics
        Quality Assurance       
        Forensic Accounting
        Forensic Photography
        Forensic Engineering
        Fingerprints
        Criminal procedures and expert testimony
        Trace analysis and physical evidence analysis
        Arson and Explosion Analysis
To register please fill in the Conference Registration Form and send it back to mafs2018@mafs.biz
Registration fees include conference material.
Oral and Posters Presentations
We strongly invite you to share your experience by submitting your abstract for an Oral or Poster presentation.
Online presentation by Skype, Viber, watsapp or imo.
Deadline for abstracts submission is  18th March 2018
No abstracts will be accepted after the deadline.
Abstracts must be accompanied by the conference registration form and  payment before 18th March 2018
                          location:                " Hotel Gino Wellness"
Other Hotels: "Mtsketa Palace"
Please, only choose the hotel and inform us, we will book hotel by special prices     
http://www.mafs.biz, http://iaofo.org/blog/congress, http://wawfe.org/About.htm
To register please visit http://mafs.biz/MAFS2018.htm fill in the Conference Registration Form and send it back to mafs2018@mafs.biz
What are the benefits of participation in VII MAFS Conference, 1st IAOFO Meeting, 1st GAFS Meeting, WIC 2018?